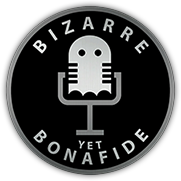 BIZARRE YET BONAFIDE PODCAST
In this 6-part limited podcast series, professional paranormal investigators Grace and Anton reveal what the authorities DON'T WANT YOU TO KNOW about the truly BIZARRE goings-on in North Kill, NY. But are these reports BONAFIDE? Listen and judge for yourself…
Listen now. Search "Bizarre Yet Bonafide" on your favorite podcast app including iTunes, Spotify, or watch on YouTube.
Listen Now
Episode 1 - The Woman in the Woods
In their very first episode, professional paranormal investigators Grace and Anton investigate the mystery of a disappearing corpse in a haunted forest that's so spectacularly spookifying, you'll forever think twice before wandering off for a pee in the woods. Especially if you're in Upstate New York.
Episode 2 - The Boy Who Cried Bigfoot
Grace and Anton go deeper into the conspiracy of the vanishing corpse. Could it be the work of a famous CELEBRITY? That's right – we're talking Bigfoot and his cryptid coterie! Plus, we'll take a deep dive into Mr. S. Quatch's habits, smells and dating preferences, including rumors of his romantic relationships with cows. YOU HAVE BEEN WARNED!
Episode 3 - Missing, Presumed Dead
This mystery is a puzzling peach of perplexity and we're taking another bite! Grace and Anton have identified the vanishing body! And they have some theories about what… or whoOOooOOooOOoo is behind their death. Hop aboard, buckle up, and let them take you for a mind-boggling trip on the ghost train!
Episode 4 - Hangry for Revenge
The case of the missing corpse takes an unexpected twist, Grace and Anton explore what makes vengeful spirits so absolutely brimming with venge, and rumoured sightings of a hag in Upstate New York's Hackett Woods pique the pair's interest.
Episode 5 - No Hoax Without Fire
Grace visits Upstate New York in search of The Hag of Hackett's Quarry, heads into the haunted woods to make a red-hot discovery, and does such an awesome impression of Anton you'd swear he was there! But he wasn't, because he sucks.
Episode 6 - The Hag of Hackett's Quarry
It's late summer in the remote forests of upstate New York, and the teen counselors of Hackett's Quarry have the camp to themselves for one final night. This means no kids, no adults, and no rules. In this thrilling cinematic tale, you control the fates of all nine camp counselors as their party plans unravel into an unpredictable night of horror. With life-or-death decisions around every turn, the choices you make will determine how the story unfolds.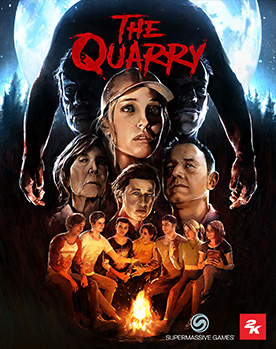 THE QUARRY STANDARD EDITION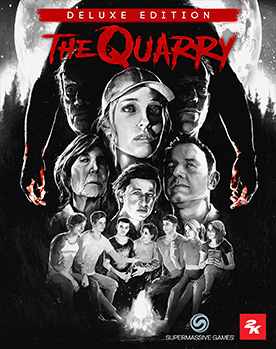 THE QUARRY DELUXE EDITION
Includes:
Full Game
'80s-themed character outfits
Instant access to Death Rewind
Gorefest Movie Mode option
Horror History Visual Filter Pack
THE QUARRY STANDARD EDITION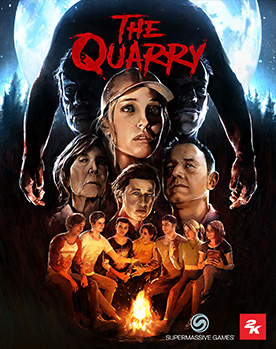 THE QUARRY DELUXE EDITION